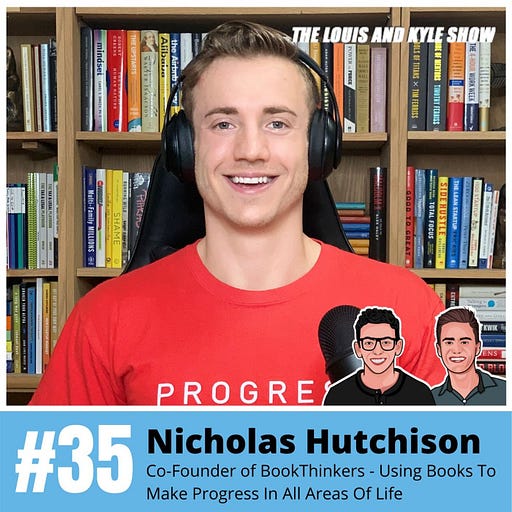 Sep 29, 2020 • 1HR 13M
Nicholas Hutchison: Co-Founder of BookThinkers - Using Books To Make Progress In All Areas Of Life
Sharing tools for success in entrepreneurship, investing, self-education, and fitness through interviews with inspiring mentors.
Nicholas shares how he grew the @bookthinkers instagram account to over 90k followers and how he leveraged this audience into a new podcast with an all star lineup of guests, a mobile application for smart retention, and a collection of merchandise (that he wore during our interview).
In our conversation, we answer questions like what books to read in specific situations and why everyone should be focused on getting 1% better everyday.
If you want be a part of the BookThinkers Family, you can get started by following them on Instagram. You can also check out their website, their merchandise, or their mobile app.
Books Mentioned:
Rich Dad Poor Dad - Robert Kiyosaki, Crush It - Gary Vaynerchuk, Flip Flops and Microwave Fish - Peter Yawitz, The Compound Effect - Darren Hardy, The Mastery of Self, Deep Work - Cal Newport, Limitless - Jim Kwik, and Indistractible - Nir Eyal
Help Us Out:
If you would like to reach out to us, the best way to do so is on Twitter, Instagram, or Facebook.
If you enjoyed this episode, please be sure to subscribe!
Last, please take a minute to leave us an honest review and rating on iTunes. They really help us out when it comes to the ranking of the show.
Thanks for listening!