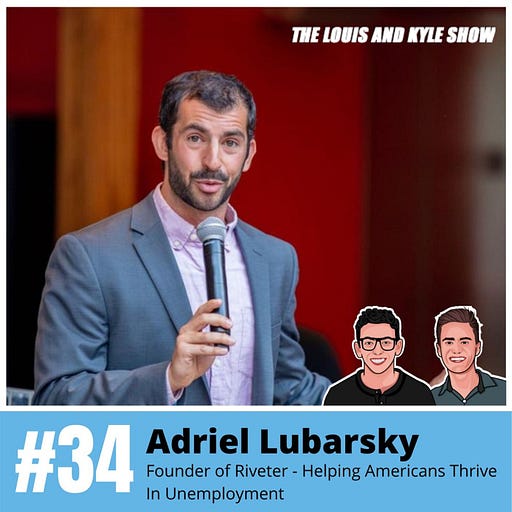 Sep 22, 2020 • 1HR 16M
Adriel Lubarsky: Founder of Riveter - Helping Americans Thrive In Unemployment
Sharing tools for success in entrepreneurship, investing, self-education, and fitness through interviews with inspiring mentors.
Adriel's passion for helping the unemployed started during a 6-month period of unemployment he faced a few years ago. He saw the time as a gift and started a podcast, networked 30 hours a week, and focused on "doing things that didn't scale" in order to maximize his period for growth.
Because of the opportunities he created for himself during that period, Adriel landed a job with a self driving delivery startup.
After a hard-hitting conversation with a truck driver, he started thinking about the well-being of all of the drivers who would be losing their jobs in the coming years. To address this, Adriel decided to strike out on his own and created Riveter.
Riveter members gain access to beneficial resources in health, finance, and education so that they can maximize their time of unemployment and be a stronger candidate for the job market.
Cool Things Adriel Mentioned:
Biographies: Andy Grove, The Virgin Series - Richard Branson, They Call Me Supermensch - Shep Gordon
Other Books: AI Superpowers by Kai-Fu Lee and Sapiens by Yuval Noah Harari
Handy Links:
Connect with Adriel on LinkedIn.
Learn more about Riveter.
Reach out to us on Twitter, Instagram, or Facebook.
Help Us Out:
If you enjoyed this episode, please be sure to subscribe!
Last, please take a minute to leave us an honest review and rating on iTunes. They really help us out when it comes to the ranking of the show.
Thanks for listening!